What is Jungle Scout and is it worth it?
We often get asked the question: What is Jungle Scout and is it worth it?
So in this blog, we'll explain exactly what Jungle Scout does so that you can decide if you think it's worth using for your online business.
(Before we start, we wanted to let you know that we are in no way affiliated with Jungle Scout, and we have no connection with them)
Now, if you're reading this, you are probably quite new to the eCommerce journey. You might have a product in mind, might have decided which market to sell in, and have probably already set up your Amazon Seller Central Account. The next step is to do some market research to ensure your product will sell and there aren't any big sharks (competitors).
This is where Jungle Scout comes in. It's an extremely powerful tool to have in your arsenal.
We've introduced Jungle Scout in our training curriculum at ImportXperts because we do believe that it's a very useful tool. So what is Jungle Scout, and how can it help you in your Amazon Selling Journey?
What is Jungle Scout?
Jungle Scout is one of many paid tools that Amazon sellers use for product research and selection. It's a great platform that provides actual data and insights to help you grow your Amazon business.
Basically, it takes the data of all the products on Amazon, analyzes it, and presents it to you in an easy-to-understand package.
Through the platform, you can then predict which products will be profitable – using actual data from Amazon itself.
Now, not everybody uses Jungle Scout. You can definitely be a successful Amazon seller without it. However, sometimes it's easier with some extra help. Or with real numbers so that you're not guessing how popular a product is. Because when you're spending money on stock – you need to have full confidence in your product.
There are a lot of benefits to the platform, and it can make a lot of things easier (especially during the product-researching phase).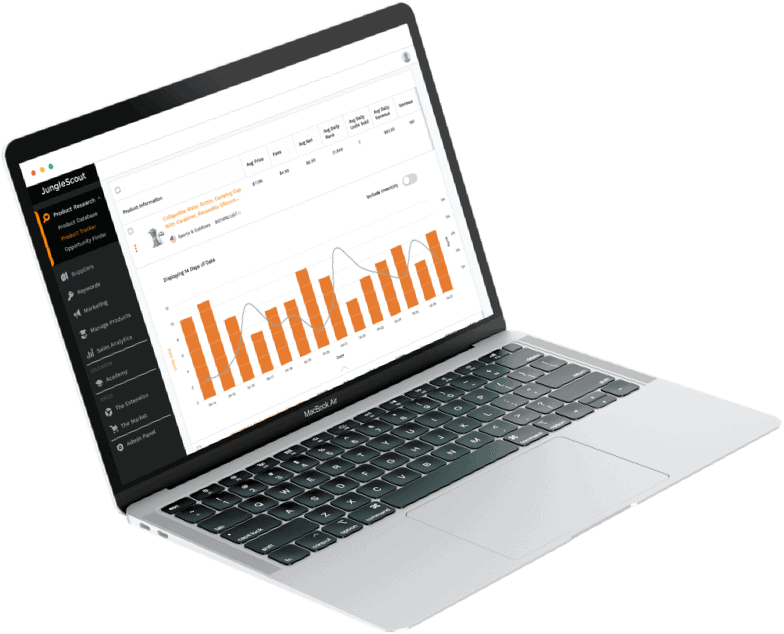 So, what are the benefits of using Jungle Scout?
1. You're working with real-time data
As we mentioned above, Jungle Scout gives you accurate, live data that shows you hot-selling products on Amazon. You can in turn use this information to properly assess the profitability of your item, and if it's even worth entering that product category in the first place (or if there's already too much competition).
Through Jungle Scout, you'll have access to data showing how much demand a product has, and the actual number of competition in the product category. They call it an "opportunity score" – the higher the score, the more potential it has (because there might be high demand for an item, but not a lot of sellers).
Check out a screenshot below, the opportunity score is in the top right-hand corner.
2. It works with the most popular Amazon marketplaces
Through Jungle Scout, you gain access to data from several Amazon Marketplaces – great if you're already selling in different countries, or if you think you'll eventually expand to do so!
Currently, it works great on Amazon US and UK. Here's the full list of Amazon Marketplaces Jungle Scout currently has support in:
Amazon US (amazon.com)
Amazon Canada (amazon.ca)
Amazon Mexico (amazon.com.mx)
Amazon Brazil (amazon.com.br)
Amazon UK (amazon.co.uk)
Amazon France (amazon.fr)
Amazon Germany (amazon.de)
Amazon Netherlands (amazon.nl)
Amazon Spain (amazon.es)
Amazon Italy (amazon.it)
Amazon Turkey (amazon.com.tr)
Amazon India (amazon.in)
Amazon Saudi Arabia (amazon.sa)
Amazon UAE (amazon.ae)
Amazon Japan (amazon.jp)
3. You can use it to keep tabs on the competition
As it's a platform for online market research, it's a great way to scope out the competition as well in your product group. It can be as basic as finding out how many suppliers there are for specific product groups, or as detailed as to which specific keywords these suppliers are using.
Through a tool called Keyword Scout, you can perform analysis on the performance of specific keywords. You can in turn use it to optimize your own Pay-Per-Click (PPC) campaigns.
This is powerful because you can even use it to scope out specific keywords your direct competitors are using to rank in the searches. In turn, you can then add it to your own listings to ensure that you're not being left behind.
4. It has flexible options and tools
And finally, Jungle Scout has some flexible pricing options and tools, depending on your budget.
The Basic package gives you a license and full access to the Jungle Scout browser extension (Chrome & Firefox). This gives you the functionality of Jungle Scout right in your favorite browser – you can analyze the competition and demand of any product without leaving the Amazon website!
The Suite package gives you all the functionality of the Basic package, as well as access to a WebApp that is packed with more features. You'll even have the opportunity to add more users! In addition to the browser extension, you will have access to more advanced seller features like product and supplier research, listing builders, the above-mentioned Keyword Scout, and more.
If you need even more data, there's even a Professional package that you can get. Check out their pricing page to find out more!
Are there any disadvantages of using Jungle Scout?
1. You have to pay for it
Jungle Scout is a powerful tool, but it doesn't come for free. As of this writing, it will cost you $49 per month for the Basic package, and $69 per month for the Suite.
You can save a little bit by buying a yearly subscription (Basic: $349 annually, or $29 per month; Suite: $589 annually, or $49 per month).
Quick tip! As we mentioned in the previous section, you can actually add more users in their Suite package. Many ImportXperts members actually like to share the Jungle Scout WebApp. Check out this video that Erik made about this.
If you are interested in sharing the WebApp with other IX members, write a post in the IX Community Facebook Group. We get new members all the time, so there's bound to be someone on there who's willing to split the subscription cost with you!
However, do note that the Basic package (the one with just the browser extension) cannot be shared.
2. It does not have full functionality in all Amazon Marketplaces
Although we mentioned in a previous section that it has support from all these different Amazon Marketplaces, some functionality is currently limited for a few countries.
It's best to do some additional research on this, to see if your required functionality is available in your current market. Check out the Jungle Scout support page on this, which goes to even more detail.
However, most major markets, like the US and UK have full functionality, so no worries there!
***
We hope you learn a thing or two in this quick discussion on Jungle Scout Basics.
Clearly, the benefits outweigh the disadvantages, so if you have the extra budget, we recommend you get Jungle Scout as it really helps a lot. If you have a very tight budget – they do have a 30-day money-back guarantee so you can always purchase it, try it for 30 days, and ask for a refund if you don't think it's worth it.
Note that Jungle Scout is not the only platform that does this. There are other product research tools which you can use like Helium 10, Unicorn Smasher, and Algopix.
However, even if you decide not to use Jungle Scout, we'd definitely recommend signing up to their email list. Jungle Scout is a great additional resource, and they send out blog posts, updates, and other helpful info all the time. It's free information – no reason not to take advantage of it!
That's it! Good luck, and happy selling!